Feeder For Two, Please!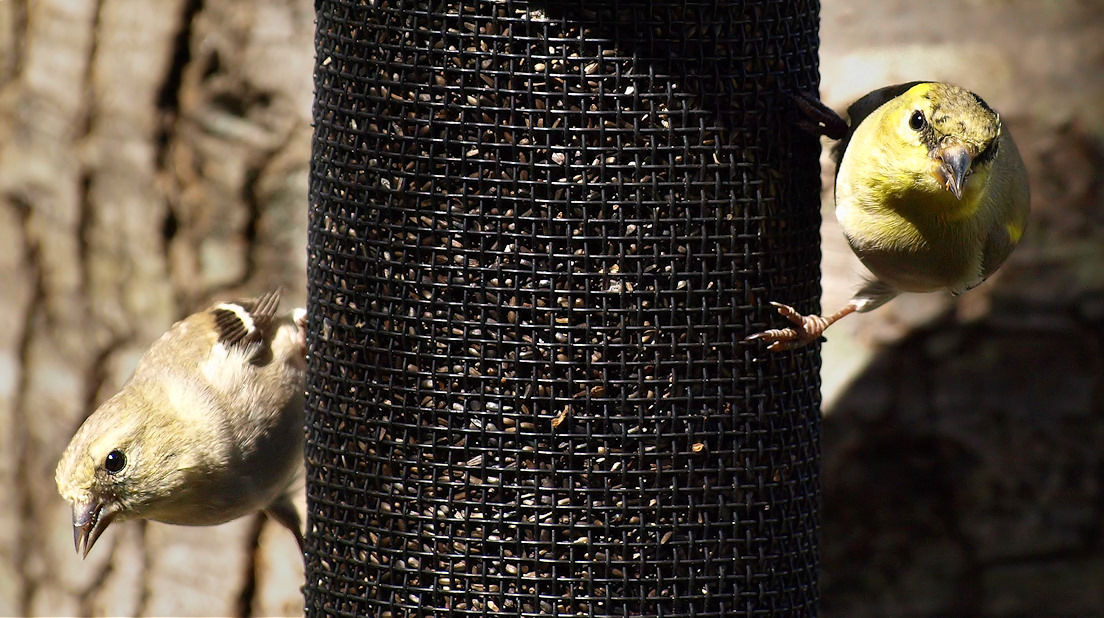 Copyright ©2008, Mike McMullen
Viewed times
A male and female Goldfinch dine on their favorite food - Nyjer thistle seed.
Proof that spring is just around the corner, both birds are molting into their Spring colors.
The male is getting his vibrant yellow feathers and the black band is beginning to appear on his head.
The female is slowing turning an olive color.
Soon nest building will begin!
Enjoy!
| | |
| --- | --- |
| Photographer: | Mike McMullen |
| Folder: | Mike's Pics |
| Uploaded: | 11-Mar-2008 17:00 CET |
| Model release available: | |
| Camera: | Olympus E510 |
| Exposure time: | 1/800 |
| Aperture: | f/6.3 |
| Focal length: | 141mm 4/3 |
| Lens: | Zukio 70-300mm |
| Focusing method: | Spot |
| ISO: | 800 |
| White balance: | Auto |
| Flash: | no |
| Image format: | RAW |
| Processing applied: | Slightly sharpened and cropped |
| Various: | The 70-300mm lens is wonderful at close distance providing an excellent bokeh. The feeder is only 6 inches from the tree. Actual DoF is about 3-4 inches. |
| Image resized to: | 618x1104 |