Olympus C5050z digital camera resource
Contact & Questions

For questions and comments send me an email or use the form below. If you have very specific questions about the Olympus 5050, I'd suggest that you put them in the






Index









Technical data and user manuals

The basic manual is available for download here.
The complete reference manual can be downloaded here.

The CCD used in the 5050 should be this one manufactured by Sony:

ICX452AQ
Chip size is 8.23mm x 6.68 mm; diagonal is 9.04 mm (1/1.8")
Pixel size is 2.78 x 2.78 micrometer
Complete specifications are available here
Reviews
User comments
Battery life comparison between C5050 and the G3 (by Davor Petric, a journalist)

Battery comparison: LCD monitor is constantly on, flash is fired for each picture (not red-eye), program mode, solid (but not perfect) sharpening targets, single AF, distance of targets 1-2 meters in a room lit with 60w bulb, zoom to other end position for each shot, if possible AF assist light is off.
Results (note that the battery power in Watts is the same for G3 and c-5050z with 4x1700 NiMh):

Canon g3: 550-600 pictures with one charge of well formed battery.
Olympus c-5050z: 525 pics with quickly charged (2h20min) Olympus 1700 NiMh batteries
Olympus c-5050z: 700 pics with perfectly charged Olympus 1700 NiMh batteries

Olympus 5050 vs. Canon G2/G3 (comment by bcatwilly)

I am by no means a photo expert, but I have been following all of the discussions of noise, CA, aliasing artifacts etc. In reading the Canon forum and looking at some of the G3 galleries that have been posted, I must say that I cannot see any glaring difference (5050 looks to be a little more 'noisy', but apparently the camera lets you change sharpening setting).
I have also seen plenty of CA and aliasing examples in the G3 shots too. I don't think the 'noise' is much of a concern for printing pictures even at large sizes, and I did notice that some of the Canon shots had a more artificial look in certain areas of the picture, sort of 'processed' looking even though straight from the camera.
So I am probably going to lean toward the camera that seems to have even more 'cool' features, such as a Super Macro mode and unlimited movie length (obviously limited by the media :) ).

Battery life

(the brief report of a journalist who is reviewing the 5050):

It happens that I have c-5050Zoom on review. Therefore, I did the battery test and it was very boring - that means that I finished the test before the camera get me the low battery signal. So I stopped with 95 shots with flash and 120 without flash and there was still energy in abundance. The camera was set on continuous AF and I delete manually all 215 shots. All flashed shots were done with flash assisted light. I believe that this is more then enough. And again, the batteries were still there with lot of juice.
I used Olympus NiMH 1700mAh batteries.
Moreover, about the details: It is really a PRO. I specially liked the live histogram. In addition, another PRO thing, it has F1.8 glass!!!!!!!

Also see Bob Kaune's very informative page on the Olympus C5050.
Questions ? Comments ? Put them in the Olympus 5050 user group
Sample images
Note: this is simply a collection of links to Olympus 5050 samples posted by Olympus 5050 users. Some of the links below may no longer be active (most were added at the end of 2002 or early 2003).
Goddy published an interesting comparison of images from the Olympus C5050, 2100 and E-10 (all images are complete with EXIF data).
See this interesting gallery of 5050 samples by Mr. Charles Albrecht-Loyns. You'll find samples in which saturation, contrast and sharpness are variated from -5 to +5 in 1-increments (useful to see the effects of these controls). In addition there is a serie of samples in which the flash intensity control is changed (-1.7 to +1.7 in 0.3-increments). There are also test images done with the Olympus flash-film scanner and some samples with the Starblitz 1000 Auto ringflash.
Jan 13th: Liz Zoob created a gallery of 5050 samples. You'll find indoor and outdoor images.
A comparison of images from the Olympus C-5050, Canon G3, Minolta D7Hi, F71, Fuji S602 and Nikon 5700 is available here (Japanese site):
Dec. 10th: DCresource posted a gallery of samples of the Olympus 5050
Dec. 2nd: Henry Chiu uploaded a gallery of 5050 images to pbase. There are various images: some infrared, some of a baby, one nightshot with remarkably low noise, some with FL-40 flash. His comments:

"The camera has very impressive near no light AF accuracy with the help of both AF assist lights (in-cameara and in-flash). Live histogram is nice too. You can see even with my fast moving little model, the focus performance is not bad (both iESP and Spot)."

Dec. 1st: Alexander Gruener posted a gallery with macro and supermacro samples of a watch. ISO values from 64 to 400 at sharpening values -5, 0 and +5. Very interesting to see how ISO and sharpening settings affect sharpness and noise. Full size samples available.
Nov. 29th: Hiro put up a page of samples on pbase; there are outdoor and indoor images at different sharpening levels (full size samples available)
Nov 23rd: Kevin Atkins posted a gallery of Olympus 5050 images taken at different settings. Basically he varied sharpening, contrast and saturation. Very helpful to see how different settings affect the image quality. Full size samples available.
Nov 22nd: Hollie reorganised his Olympus C5050 samples gallery. The gallery now contains
Nov 21st: Bob Kaune added more samples and some interesting comments to his Olympus C5050 page.
Nov 20th: Kane posted some night shots (as well as two day shots). Full size originals available.

Comment: exposure times seem a bit long.
Nov 19th: Manny Gomez posted a comparison of Olympus 5050 and 3030 photos on his site. No full size samples; images taken in a photo store.
Nov 19th: Bob Kaune created a page with very nice samples of the 5050. All images however are resized - there are no full size samples. Images taken at ISO64, contrast -2, sharpening -5, saturation -2.
Nov 17th: two C5050 images of a dog available here - taken with ISO 400 and flash. By Joann Miller.

Comment: the dog photo is very sharp, even at 100%. Noise seems less of an issue, even if the image was taken with ISO 400.

Nov 16th: more samples here - photos by Dave

Comment: noise seems less of an issue; I'm impressed by the sharpness of the images (they are quite sharp even at 100%) - seems like the aggressive in-camera sharpening is not so bad after all.

Nov 15th: samples with flash and/or teleconverter available here. Other samples with a Hoya HMC polariser filter available here. All samples taken by Kane.
Nov 15th: here is a comparison of images taken with different in-camera sharpening settings. These samples were taken by Tan and are hosted on his studioq.com site:

Comments:

It appears that the 5050 has a very aggressive default in-camera sharpening, which increases noise. Just compare the images with default sharpening with those with sharpening set to -5.
Setting the camera to ISO64 and sharpening -5 should produce clean, noise free images.
There is some chromatic aberration, but there are easy ways to get around this problem. Either shoot at F4 instead of F1.8 or see here for a procedure to remove CA after the fact.

Some sample images are available here. It's a site from Hong Kong and full size images are available (just click on the resized images)
General tips
Shoot with in-camera sharpening turned off (sharpening set to -5). This reduces substantially the noise in the images.
White balance settings
I've settled down on auto white balance as the default white balance for the 5050. It is not perfect and will sometimes produce a slight pinkish colour cast, but is very usable is almost all situations.
Here is a comparison of 4040 and 5050 automatic white balance
Camera exposure modes
The 5050 offers a number of automatic exposure modes (portrait, landscape, sports, night etc.). For each mode the Olympus C5050 has a different way of choosing aperture and exposure settings.
Alan Fleming performed a test to see how the 5050 chooses aperture and exposure depending on the mode. The detailed results are available.
His conclusions:

All of the modes indicated the same "exposure value characteristics" in low light conditions - i.e. up to approx. 1/50th at f1.8
"Program - P" Mode, "Landscape + Portrait" Mode, & "Landscape" Mode all display the same (or very similar) exposure evaluation characteristics - i.e. Maximum f1.8 aperture below 1/60th; at 1/60th go from f1.8 to f4 as quickly as possible; then hold at f4 for shutter speeds above 1/60th up to 1/800th.

As expected these settings are biased to smaller aperture for greater depth of field. The camera no doubt does other subtle things internally - which will probably vary from one mode to another.
"Portrait" Mode & "Sports" Mode both display the same (or very similar) exposure evaluation characteristics - i.e. Maximum aperture of f1.8 until 1/800th; then hold at 1/800th and stop down the aperture. As expected these settings are biased to a larger aperture + faster shutter speed for less depth of field (Portrait) and to stop action / movement (Sports). Again the camera no doubt does other subtle things internally - which will probably vary from one mode to another.


Noise and JPEG file size
What follows are the results of a test I conducted.
Noise is measured with the standard deviation in an image area with homogeneous colour (see the image to the right).
In the test noise and file size are measured at different ISO and sharpening settings.
I did the test with two scenes (results on this page are shown only for one scene).
The complete results are available here.
Noise vs. sharpening level and ISO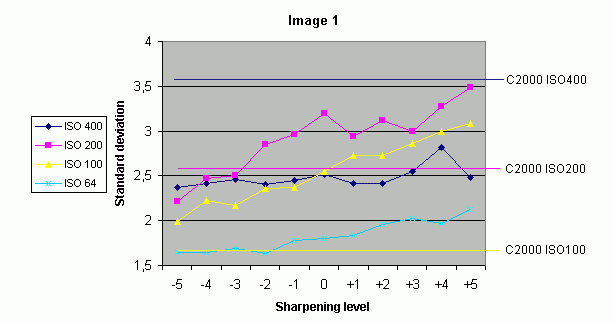 Noise at ISO 64 is substantially lower than at ISO 100, 200 and 400.
Noise increases as the sharpening level is increased.
In this test, at ISO 400 noise is surprisingly lower than at ISO 200 for almost all sharpening levels. It is even lower than noise at ISO 100 for sharpening levels greater than 0. Perhaps there is some kind of noise reduction mechanism which gets activated at ISO 400, but not at ISO 100 or 200. However this ISO400 noise reduction filter is only applied in image areas which contain no detail and the noise in the other parts of the image is not reduced. In other words it still makes sense to use ISO 100 and 200 - the ISO400 filter simply helps reducing the noise where it is most visible.
Compared to an Olympus 2000, a 2MP camera with larger pixels (4x4 micrometer vs. 2.8x2.8 for the 5050):

at ISO 100 the 5050 has more noise at all sharpening levels
however at ISO 64 the 5050 has the same noise level as the C2000 at ISO 100, if sharpening level is low (below -1)
at ISO 400 the 5050 has less noise than the C2000
at ISO 200 the 5050 has more noise than the C2000 at all sharpening levels except the lowest ones

Concerning the file size: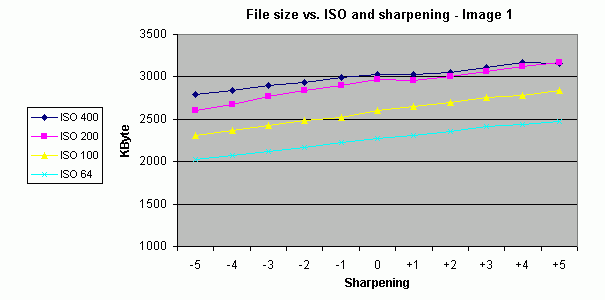 File size increases with increasing ISO and sharpening level; for instance at ISO 64 and sharpening -3 the file size for this particular image is 2120 KByte, while it is 3025 KByte at ISO 400 and sharpening 0.
Therefore you can save a lot of memory space if you shoot at low ISO and sharpening levels.
Detailed test results are available.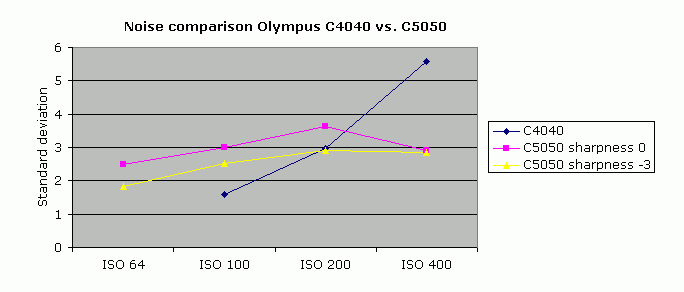 Test details available here
RAW file format
Give a try to Silkypix's Developer Studio RAW converter. Not free, but it is getting very good feedback from those who are using it. It seems to be THE raw converter with virtually any control you can imagine. Some feedback from Jerry Beggs:

"I have tried the Silkypics raw converter - it is the best I've found and importantly, it runs on old pc's; I use Windows ME on a PIII 800 processor with 256mb RAM. It works perfectly and is fast enough. Many of the new RAW convertors like Pixmantecs Rawshooter Essentials and Phase One's Capture will not run on less than 500mb RAM and Windows XP. "




Give a try to the RAW converter from Pixmantec (RawShooter Essentials - free so far), which has received very positive reviews.
Another Free program that can view RAW is Picasa2 available from www.picasa.com

See this comparison of RAW vs SHQ JPEG. It will give you an idea of what can be achieved with RAW.
The XNVIEW program allows you to view and convert Olympus 5050 RAW images (freeware - thanks to Gordon Bakker for informing me about this).
I assume that you know that Adobe created a powerful RAW plugin compatible with 5050 .orf files for Photoshop 7. Note: you'll have to upgrade to Photoshop 7.0.1 before being able to use the plugin.
Karl Johnson created this page comparing RAW, TIFF, SHQ and HQ images. For RAW conversion he used the Adobe Photoshop RAW plugin. Comments:

Interestingly HQ is more smooth than SHQ.
(The output of Adobe PS) RAW is smoothest and contains the least noise, but also less detail compared to SHQ.

A RAW converting program for Linux is available here.
With the Camedia Master 4.03 that comes with the 5050 you can browse, open, and save the 5050 .ORF RAW file as an Exif TIFF (8 bit). You can set saturation, contrast and sharpening The ExifReader software is able to open the TIFF and read the Exif header.
Photoshop plugin: this plugin works with Photoshop 7.0:

"I tried the new photoshop plug-in and it worked OK for me with a RAW .ORF from my 5050. One thing to note is that you must unzip the ORFImport.8ba file to the photoshop plugins folder (normally C:\Program Files\Adobe\Photoshop 7.0\Plug-Ins). Then you must use Import, not Open, to convert the file. It opens the file in 16 bit mode." (Doug Haluza)
"You can import 16 bit Olympus 5050 RAW files either unprocessed, with a white balance adjustment or with an auto-correction. For the white balance adjustment you can specify a point in the image. There isn't more information, no help." (from a German poster in a German newsgroup)

More links to information on RAW format:
Memory cards
Card speed tests

Jens Birch organised a memory card speed test for CF and other memory cards. Here are some results (time needed to write a RAW image (7.3 MB) to the memory card:

| | | | | |
| --- | --- | --- | --- | --- |
| Brand | Type | Speed | Size (MB) | Write time (sec) |
| Transcend | CF | 30x | 512 | 3,8 |
| Lexar | CF | 12x | 256 | 3,9 |
| Transcend | CF | 30x | 512 | 3,94 |
| Sandisk | CF | Ultra | 512 | 4 |
| Ridata | CF | | 512 | 4 |
| Transcend | CF | 20x | 256 | 4 |
| PNY (Toshiba)? | CF | | 256 | 4,2 |
| Transcend | CF | 30x | 512 | 4,2 |
| Lexar | CF | 12x | 256 | 4,5 |
| Viking | CF | | 256 | 4,5 |
| No name | SM | | 128 | 7 |
| Olympus | xD | | 128 | 7,5 |

Comment: since a 30x card is not faster than a 12x card, the bottleneck is the 5050 which apparently is not able to write faster than 1.7MB/s to the card, no matter how fast the card is.

The complete results of the memory card speed test are available here.
J. Andrzej Wrotniak tested the write speed of different CF, Smartmedia and xD memory cards in the 5050. He measured the time required to write a RAW file to the memory card. The complete results are available here.
Also see the CF speed test of Rob Galbraith.
See also the threads on this topic ("Great Difference in Compact Flash Cards with 5050") in the Olympus 5050 user group

Compatibility issues

Beware of CF cards, especially if the firmware of your camera is v77 or older. There have been lot of cases, in which people reported total loss of images and frozen 5050.
See here for a table showing the compatibility of different CF cards and the 5050.
I bought a Transcend 30x 512MB CF card and my 5050 has firmware version v77. The card froze the camera a couple of times and in a couple of times the card became unreadable. To be able to use it again I had to reformat it.
Note: a user reported no problems with a Transcend 512Mb and a 5050 with firmware v76.
To avoid compatibility issues use either Smartmedia or xD cards.

Enabling the Panorama function on non-Olympus Smartmedia cards
Firmware
The firmware of the Olympus 5050 (and this holds for all Olympus cameras since at least the C2000 which was launched in 1999) can be upgraded by the user.
The procedure is very simple:

First of all you need the firmware file. The firmware files are not available for download in the Internet - only Olympus has them. The latest firmware is v83. (This firmware is only available from Olympus - you'll have to send the camera to Olympus for servicing to get the new firmware. It probably won't be worth the effort however.)

Take an xD or Smartmedia memory card and format it in the camera.
Create a "firmware" directory in the root directory of the card (the one containing the DCIM directory).
Rename the firmware file to "firmware.bin" and copy it to the firmware directory in the memory card.
Set the camera into playback mode and insert the memory card.
Switch on the camera.
A menu will appear, showing the current firmware version and giving you two menu options ("yes" and "no").




If you choose "yes" (use the arrow buttons) the camera will update the firmware.
IMPORTANT: MAKE SURE THAT THE BATTERIES ARE FULLY CHARGED OR USE AN A/C ADAPTER. If the camera loses the power during the flash operation, you'll have to send the camera to Olympus for servicing.
Questions ? Comments ? Put them in the Olympus 5050 user group
Macro and Supermacro
The pictures have been all taken in program mode. The differences of the pictures are just the ISO levels (64, 100, 200, 400) and the sharpening levels (-5, 0 , +5). So the first picture series are 12 pictures. Click on an image and you will get the full original size (HQ) incl. EXIF header (about 1 MB each).
The second test was free hand. So the pictures are not focused to exactly the same point. You can see three pictures with super macro and different sharpening levels from -5 to +5. I did the photos at home. I photographed my watch (Omega Speedmaster Professional) from the back. There is glass on the back so there might be some problems with the focus. So far I am quit satisfied.
The images are sharpely focused in all sharpening settings. With increasing ISO the noise level gets bigger as expected. However the noise is relatively low even at ISO 400. The shapening setting -5 does indeed reduce the noise level, but also reduces image sharpness. It's is up to you what sharpening setting you want to choose. Personally I found sharpening 0 to be the best setting.
In Supermacro mode the depth of field is extremely shallow. In subjects which are not flat only a small part is properly focused, the rest is more or less out of focus. The focused part shows more detail which you would normally need.
Chromatic aberrations / Purple fringing
See "How to deal with chromatic aberrations" by Philipp Sanke. Philipp describes a number of ways to avoid or remove chromatic aberrations.

To remove chromatic aberrations with an image editor:

It is very simple to remove chromatic aberrations from an image. Simply use a photo editor and set the saturation level of magenta (also green where this makes sense) to the minimum. In some images you might have to set the saturation level of red to the minimum. It might also make sense to limit the processing to the affected area (i.e. select the affected image area and only process that).
Polariser filter and other filters
A polariser filter helps to obtain deep blue skies and to remove unwanted reflections. Consider the following example (both images taken with the polariser filter):
| | |
| --- | --- |
| Perhentian island image | Same image with polariser rotated by 90 degrees |
See the difference ? In the picture to the right, the polariser filter substantially reduced the amount of light reflected by the water surface making the sea ground more visible and made the sky more dark.
Polariser filters are also useful when the lower part of the image is dark and the top (the sky) too bright.
To connect a filter to the 5050 you'll need an adapter. I'm using a CLA-1 adapter tube 41 - 43mm from Olympus (other adpters are the Tiffen one for instance):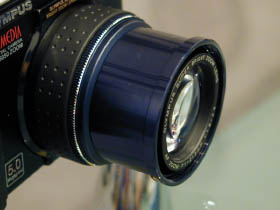 It is possible to directly mount a 43mm filter onto the CLA-1 adapter, but not any filter. Some users have reported that the lens crashed into their filter. Personally I'm using a 43mm polariser filter from Hama without any problems (no lens crash, no vignetting).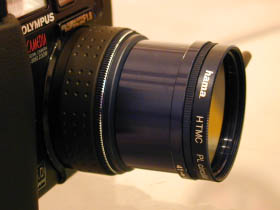 You can use step-up ring and connect a filter with a larger diameter, but keep in mind that the larger the filter is, the more you obstruct the viewfinder.
Have a look at Darwin Wigget's page on filters for further information on polariser, blue-yellow polariser, graduated neutral density and other filters
See also Jeremy McCreary's page on filters
Questions ? Comments ? Put them in the Olympus 5050 user group
Infrared photography with the Olympus 5050
Generally speaking the Olympus 5050 is less sensitive to infrared radiation than the Olympus 2000. As you can see in the following images the infrared LED of the camera remote control is much brighter in the Olympus 2000 image. Probably there is an infrared-blocking filter in the 5050, as silicon CCDs in general are quite sensitive to infrared radiation.




Oly 5050 photo of the remote control
(no infrared filter used)


Oly 2000 photo
(no infrared filter used)

Here is an image taken by Henry Chiu: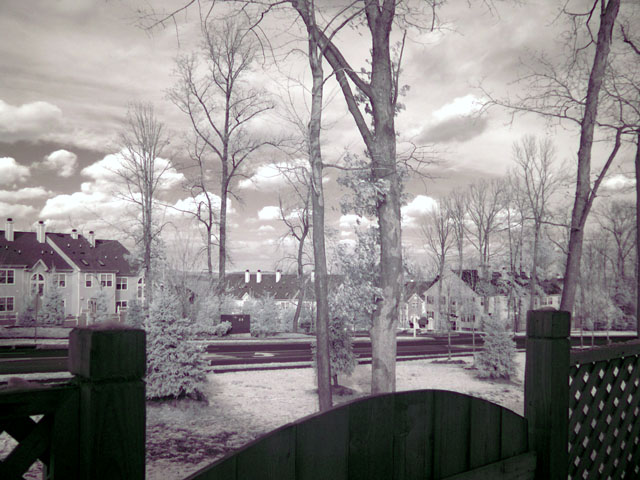 Henry Chiu's comments:

"... put on the Hoya R72, knowing the IR sensitivity shouldn't be as impressive as the old 2MP CCD, but tried anyway. After PS7 auto level, auto contrast, and auto color, the result came out to be presentable.

Camera setting: F1.8, 1/2s, ISO64, Spot metering, aperture priority, 0 EV compensation."
The site Infrared photography with your digital camera contains interesting information about infrared photography with Olympus cameras and an overview of infrared filters with their spectral characteristics.
See this gallery with infrared images taken with a 5050 by Bob Hesse.
These sites contain useful information about infrared photography with digital cameras:

Echeng.com: Digital infrared photography - site devoted to digital infrared photography with image galleries, information about filters and equipment and links.
Wrotniak's Infrared Photography page - excellent information resource devoted to infrared photography with Olympus cameras. Information about infrared filters, exposure settings, focus, post-processing, sample images and links.
Also see the Infrared photography page of the Apogee magazine: this is an interesting general introduction to infrared photography with digital cameras.
Questions ? Comments ? Put them in the Olympus 5050 user group
Auxiliary lenses
A comparison of the B-300 vs. the TCON-17 teleconverter is available here (test images with an Oly 2100 however).
Some comments of Olympus 5050 users:

- Needs raynox adapter 41-52
- Incredibly large and bulky for a lens. Heavier than the camera. I built a crude holder for camera + lens, so I don't have to worry about breaking the threads.
- Quite noticeable blurring towards the edges, but sharp in center.
- I would therefore not recommended it for large print purposes.
- I use it only in SQ1 resoultions (<=1280)), when edge-blurring is not very noticeable. (For 360 degree panoramas.)
- At full wide, vignetting is visible in corners. There is a considerable offset from center (see example photos at raynox). I assume the sensor chip is misaligned inside the C5050, compared to the lens threads..? (Anyone else noticed such alignement problem?) No such misalignment on other cameras.
- See some test images here


By keops_777, Olympus 5050 users group

Olympus TCON-14

Brief description: 1.4 x magnification of picture.
Picture quality: Superior to using digital zoom for the same magnification (less noise).
Image sharpness: 2 samples in JP folder of photos section of group (pictures 5 and 6).
Level of chromatic aberration (if the lens increases it): did not notice any significant increase
Vignetting: normal zoom must be at maximum else vignetting visible.
How satisfied: Pretty satisfied but would like more magnification - intend to buy one of the new Eagle Eye zooms when available


By John Patston, Olympus 5050 users group

Excellent quality...I discern no difference in image quality with lens on.
No vignetting between approx. 85mm and 105mm
Lens not quite long enough, but it comes in handy when I need that little extra reach (but then I'm not a real long lens addict...the longest lens I have for my 35mm is a 200mm).
The lens mount is a little tenuous...it is with 2 snaps on the side of the lens...I'm always worrying about it falling off.
Andrew

Olympus TCON-17

Brief description: 1.7 x magnification of picture.
Kevin Venator has a test with the TCON-17 on his site.


Olympus C-210 1.9x teleconverter lens

(with a Raynox adapter) I'm not real trilled tho, I knew there would be vignetting, I've looked at test pics, and it seemed little enough. I think I'm seeing more tho, the biggest effect is in the bottom left corner, a little less on the top left, least on the top right, and some on the bottom right. The weird thing is that it seems to vary, some pics were really apparent, some not so much. Daylight was on it's way out, but I did try a few using different metering - multi, spot and esp. I thought at first that might be it, but it did seem random.


Chris E, Olympus 5050 users group

EagleEye 5x teleconverter

OK but not real happy, some tests at http://www.rkrenn.com/photos/lens/LensTests.htm
I'm hoping the new CrystalVue LX Lens from www.ckcpower.com will be better. They should have test photos in a few weeks.


Richard Krenn, Olympus 5050 users group

Raynox DCR-1850 Pro teleconverter

I have now compiled my tests of the Raynox DCR-1850 Pro teleconverter on a C5050. I compared it with another cheap teleconverter, digital zoom, and going closer to the subject using the original lens at full zoom.


Jens Birch, Olympus 5050 users group

Olympus WCON 08-E Wide Conversion Lens .8X

I have a Olympus .8 X wide angle which works great, but only at 28mm. I've been looking for a good lens in the 18-20mm range. So far I have not found one that doesn't have "vignetting". I have a Tiffen .56X (need step down ring to 37mm to attach). It vignettes at wide open position. You need to zoom to approximately 28mm to eliminate shadows.


Lynn Neal

Quality only fair to OK...lots of image distortion (fuzziness, fringing, etc) except in the center of the image. I still use it when I really need to, especially on images where image detail isn't that important or I am going to use distortion. Sometimes I'll convert these images to B&W, add grain and noise to get a high-speed B&W look.
Zoom range not of any import, since I want the wide end of the scale. No vignetting at the 35mm end of the scale. I have never even tried to zoom with this lens.
Would love to find a WA auxillary lens that had much better quality than this lens...either that or maybe Oly will make a 50x0 with a 24-70 or 28-85 version (sort of like the Nikon 5000 compared to the 5700)
Andrew


Nikon WC-E68 wide angle lens
- See the samples taken with the Nikon WC-E68 and a 43-46 step up ring by Paul Barker. Page with 40 images, 300x400 pixel size, no high resolution originals

External flash
August 03: I bougth a Metz 32 MZ 3 external flash (guide number 37 in tele, 32 in wide angle). This external flash unit offers everyting the more expensive FL-40 has (TTL mode, manual mode, tiltable flash lamp for bouncing, AF illuminator, motorised zoom etc.) at a substantially lower price (145 Euro including the SCA 3202 Olympus digital adapter).
Other flash units would be for instance the Metz 54 MZ3, the Olympus FL20 (no bouncing) and the more powerful FL50.
See Michael Meissner's excellent page on Olympus External Flash Support. It contains an overview of external flash units which can be used with the 5050 (as well as with other Olympus digital cameras).
Maximum allowable flash trigger voltage across the 5050 hotshoe (by Dave Grant)

"I intend to use the 5050 with studio strobe units and was concerned about damaging the camera with excessively high trigger voltages. This is the answer I got back from Olympus:

"The C-5050 incorporates a voltage filter to guard against voltage spikes when using external flashes or strobes. You should be able to use the strobes with no worries about the trigger voltage." "
Controlling the Olympus 5050 with a computer
"I installed the Pinetree Camera Controller on my PC. Open Media door on the camera, turn on, press OK/Menu button and QuickView button simultaneously for a few seconds, a menu pops up on the LCD screen - put camera in to control mode. Close Media door, plug in USB cable and fire up the software (the software won't work if the camera is not in control mode!). First time round the software asks you to select the camera, they then engage in a lengthy dialogue (I felt quite left out) and then it simply works! I found the software had set my camera to something like 640x400 resolution - and the next time I went to use it in the field it was still in that resolution, and I didn't notice until later! Beware :-)."
Travelling and storage
August 03: I just bought a Vosonic X's Drive 2. Without HD (I had one already) the price was below 100 Euro. This thing comes with a fast USB2 interface and will read Smartmedia, CF I and II, Memory sticks and SD/MMC cards. As far as I know this external storage device is currently the lowest cost device available. Quality and performance are good.
Update 09.06.03: new portable storage devices (do a Google search to find the manufacturers' sites):

the Archos Multimedia Jukebox w/photo attachment 20 gb - also plays mp3s. Costs more.
SuperDigibin - includes ac charger / car charger - 30 gb
Disc Steno - burn cds from flash card
Nixvue Vizor - burns cds from flash cards, spans discs for large cards, playback on tv.
Tripper - similar to digibin
Flashtrax from smartdisk (not out yet) - 2.5 inch lcd, plays mp3s, image playback on device, costs more.
EZ DigiMagic: burns CDs directly from the memory card (but how do you know that the burning process was successful? ...)

When travelling I use a Toshiba subnotebook (P1 133MHz with 64 MB RAM) to store, catalog and process the images. There are also portable storage devices, but the advantage of the subnotebook is that all image processing (i.e. deleting bad ones, sorting them etc.) can be done while travelling. That's especially relevant on long trips. The disadvantage is that a subnotebook is bulkier and heavier than a portable storage device.
Portable storage devices:

Digital Wallet - a portable HD with a card reader with 3 - 20 GB capacity
ImageTank - a portable HD with a card reader with up to 40 GB capacity
Nixvue - same as Digital Wallet, ImageTank etc. but has a small colour LCD screen to view the pictures - up to 20 GB capacity

Reto's Image Tank review has a comparison of these different solutions
Questions ? Comments ? Put them in the Olympus 5050 user group
The camera bag I'm using
| | |
| --- | --- |
| | |
| I'm reusing the bag I used for the 4040 (as most other accessories I used with the 4040). It's a relatively compact bag from Cullmann (next to it a CD to get an idea of the size). The bag can also be carried with a belt. | The inside of the bag with the 5050 with CLA1, polariser filter and lense cover; next to it a transparent plastic container (originally this was the container of the polariser filter) in which I put the Smartmedia cards. The smaller side bag (with a zip) contains two sets of spare batteries, the remote control, a lens cleaning stick and a tiny tripod. |
Underwater Photography
Data recovery / Smartmedia problems
Noise reduction
Exposure information data (EXIF)
The picture files of the Olympus 5050 contain the complete exposure information (aperture, exposure time, focal length, white balance and so on).
This data is usually lost when you edit the pictures; but some modern image editing software packages keep the data intact when saving the processed intact.
To read this data you can use these software tools:

ExifReader, by Ryuuji Yoshimoto. Haven't tried the software myself, but it looks interesting. Freeware.
Exif Image Viewer, by Michal Kowalski. This is the one I'm using. Quoting from his homepage:
"EXIF viewer is a simple image viewer application for photos taken with digital cameras. It's capable of reading EXIF information embedded in photos as well as little thumbnail. Because small thumbnail is already present in most photos displaying it is really fast.
EXIF viewer can also provide detailed information about photos (shutter speed, aperture, etc.) and conveniently list them for comparison purposes.
EXIF viewer also displays image histogram. It also features copying/moving and deleting of selected photos. Single photograph can be displayed in separate window or in a full screen mode."
Exifer, by Friedemann Schmidt. I'm using this one too. It can rewrite EXIF data to images which lost it due to processing with a software package which doesn't support EXIF. Quoting from his site:
"Exifer is a nearly free software (you only should send me a postcard if you're using Exifer frequently) with which you can manage the metadata (EXIF/IPTC) of pictures taken by digital cameras. Because many image processing software destroys this metadata when saving such files, the idea was to create a backup of the metadata before editing it in any software, and then, after that to restore it back into the processed file. With Exifer you can do this very easily. "
Panorama shots
Linux and the 5050
Replacing the mode dial on an Olympus 5050
The mode dial is on of the most fragile parts of an Olympus 5050. If it breaks, expect an expensive repair bill by Olympus.
Steve Newcomb did it himself. He ordered the mode dial part, disassembled the camera and inserted it himself.

The complete procedure is described here.
More photos about how to repair the mode dial are available here.

Astrophotography with the Olympus 5050
FAQs
What follows is a list of FAQs (frequently asked questions) compiled by Jens Birch, based on questions asked in the Olympus 5050 users group.


Q: Can I update the Firmware? Will it improve the timelag between pressing the button and exposure?
A: Olympus never released any official firmware for the C5050 and they claim that you can't do it yourself. Also, there are no observed improvements for the user with the higher versions firmware. However, there is a 'Pirate' copy of firmware v.82 and do-it-yourself instructions available at: http://www.wrotniak.net/photo/c5050/



Q: Can I use a linear polarizer with my camera?
A: Yes. You can use either linear or circular polarizers. Circular ones are needed for most autofocus SLR cameras (not the Olympus E-10 and E-20 though).



Q: How can I avoid the annoying beeping sound when turning ON by mistake?
A: Turn mode dial to GREEN ARROW...it works every time! You can also use a sufficiently long lens tube (does not work for the 8080 without vignetting).



Q: How can I obtain exposure times longer than 4 seconds or shorter than 1/1000 second?
A: You must have the camera in manual (M) mode. To obtain 1/2000 sec., you must use f/8 on the C5050. In P, A, and S modes, you can only access the shutter times in the range: [1/1000 sec. - 4 sec.].



Q: How can I reduce the noise that I see in many of my images?
A: The C5050 is known to have a too high sharpening of the pictures by the default settings. You can reduce the "Sharpness" to between -3 and -5



Q:How can I speed up the time it takes for the camera to take the picture after I press the shutter button?
A: There are many things you can do:

You can be prepared beforehand by 1/2-pressing the shutter button (and keeping it 1/2-pressed) while aiming at the subject before the actual moment when you want to take the picture. The autofocus (AF) and the aperture will be set and the camera will then take the picture with no time lag when you press the last 1/2-way.
By having the LCD switched on, the time to activate the cameras AF and metering will be reduced by about 2 seconds.

Set the camera to manual focus (MF) at the subject distance you intend to take the picture at. This is most easily done by aiming at an object at the distance you want to use and 1/2-pressing the shutter button. While keeping it 1/2-pressed, press the AF/Macro/MF button. That fixes the focus at the desired distance and the camera is set to MF. This will significantly reduce the shutter lag.
Set the camera to manual exposure (M) which further reduces the shutter lag.
When it is tricky to catch the moment, use Hi-drive sequential shooting and start taking pictures just before you think the action starts. Use the optical viewfinder in order to follow the action when the camera's LCD is occupied while taking the pictures.
Turn off the "REC-view in the "SETUP" tab in the "Mode Menu". That will minimize the time that the just taken picture is displayed and you will be ready for the next shot as soon as possible.
Use fully charged batteries if you are using the on-board flash. Otherwise it takes a long time to re-charge.


Q: How can I stop the camera from entering sleep mode after 3 minutes?
A: Plug in an external DC power unit or a battery pack. You can also excercise the zoom a little now and then with the remote control. Note that later versions of the C5060 firmware makes the camera fall asleep already after 30 seconds.



Q: How do I copy between cards in the camera?
A: Change the Camera to Playback Mode, press OK, press right, go to the Edit menu, press right, go to the Copy button, press right, select "All" if you want to copy all otherwise go to "Select" to copy single pictures. Press OK when you want to copy.



Q: How do I switch between the xD/SM and the CF cards when transferring the images from the camera?
A: The camera uses the card that was selected when it was connected to the USB port. To switch card, you must 1) prepare your computer to safely disconnect the USB drive (camera). 2) pull the USB cable from the camera, 3) press once at the CF/xD-SM button to select the other card, 4) reconnect the camera.



Q: How do I tell what firmware version I have?
A: One way of doing it is to open a picture in a text editor such as Notepad, and search for the string "v558". The number of the firmware version follows right after that; for example, v558-77 means you have version 77. A second method is, when viewing an unedited image in Windows XP, right click on on the image, then click on properties, then metadata, and it should be listed. A third method is to run the firmware update utility but do not update and it will tell your your firmware version in the camera.



Q: How do I use a polarizing filter to best effect?
A: The LCD normally compensates for the brightness of the scene which makes the effect hard to see. To see the effect on the LCD you must circumvent that compensation by locking the automatic exposure temporarily. You can do that in two ways, either by pressing the AEL button once or by keeping the shutter button 1/2-pressed. Now, while the exposure is locked, rotate the filter and observe the effect on the LCD screen, when you are satisfied with the effect you must press AEL again or release the 1/2 half pressed shutter button in order to re-activate the exposure meter (to get a correctly exposed picture). If your polarizing filter feature a little knob or a white dot, you can get maximal effect without looking at the LCD by rotating the filter until the knob/dot points towards the direction where the sun is on the sky (as good as you can). This is useful in sunny days when viewing the LCD is difficult.



Q: How high flash trigger voltage is the C5050 capable of handling?
A: Several independent Olympus' tech staff stated that they will survive 300 V trigger voltage. (See e.g., posts #9105, #19780, and #30782 in the Olympus 5050 users group.) However, one Olympus techie recommended to stay below 10 Volts (post #31361) and another said that "the voltage could not be concealed to the public". We have not had any high trigger voltage damages reported so far (July 2004). Note: a minimum of 6 Volts trigger voltage is also recommended by one Olympus representative.




Q: How to RESET my camera?
A: A "soft" reset to factory default shooting settings, but without changing date and file-numbering, is done either by simultaneously pressing the "self-timer" and "custom" buttons or by setting the "All Reset" to ON in SETUP in MODE MENU and then restarting the camera. There is also a "hard" reset which basically restarts the "firmware" (the program that runs the camera) and wipes out the on-board memory. NOTE: This reset is intended for technicians to use. This is done by: putting the camera in M mode, opening the memory door, turning the camera on and then hold the "OK" and "Quickview" buttons simultaneaously for 3 seconds. Select "Reset" in the menu that appears and press "OK". A similar reset is obtained by leaving the batteries out of the camera for a long time (12-24 hours).




Q: My camera gives out-of-focus images. What is wrong and how can I avoid it?
A: The camera is by default set iESP focussing which automatically selects what is most important to focus on. Often, the camera decides that a contrast-rich background is more important than the subject. Set the camera to "Spot-autofocus" by pressing the "OK"-button while holding down the "AF/macro/MF"- button and select "spot" with the selection wheel. That will make the camera to focus in the center of the scene. Another possibility is that you set the camera manually according to the distance gauge which isn't accurate at all.




Q: What is a lens tube?
A: A lens tube is the tube you attach to the camera body at the base of the lens; add-on lenses and filters can be attached onto the other end of the tube. For the C5050 the thread on the camera body is 41 mm and he Olympus lens tube is the CLA-1 has a 43 mm filter thread. Olympus also sell the CLA-5 which is a CLA-1 plus a 43-55 mm step up ring. Note that only certain 43 m filters will work together with the CLA-1 on the C5050 (see another FAQ about that).
Alternatively, you can get third party lens tubes from Raynox, Soligor or Tiffen with standard filter threads that accepts filters as well as third party auxillary lenses. More info is compiled in the document: 'Lens armour_adapter tubes.doc' in the 'Files' section of the Olympus 5050 users group and at http://www.wrotniak.net/photo/c5050/lens-adapt.html.




Q: What memory card is the fastest for my camera?
A: Generally a fast (faster than 17x) and large (256 Mbyte or larger) card of a good brand (like Lexar, Sandisk Ultra, Transcend, and Ridata) is recommended. At about 17x, the camera electronics becomes the bottleneck for the C5050.




Q: When is it beneficial to use a polarizing filter on my camera?
A: If a polarizing filter is rotated to the correct angle, it will reduce light reflections from wet surfaces, asphalt, glass etc. or darken the blue sky but leaving the white clouds essentially bright. You also use it to reduce haze and glare in misty or polluted air conditions. You can use it all the time but it will steal about 1-2 f-stops of light and it will not have any noticeable effect in other situations than the above mentioned.



Q: Where is the nodal point located?
A: Distance from the center of the tripod socket:

Wide = 1.41 inches = 35.9 mm
Wide + WCON-08 = 2.31 inches = 58.7 mm
Tele = 0.279 inches = 7.1 mm.



Q: Which 43 mm filters work with the CLA-1 adapter on the C5050 without lens crash?
A: Kenlock UV filter, Hama UV filter, Hama HTMC circular polarizer, Hoya HMC (multicoated) clear, HMC Skylight, and HMC UV filters, Soligor circular polarizing filter.








Links
Olympus 5050 Photo Galleries