A flower for you !!!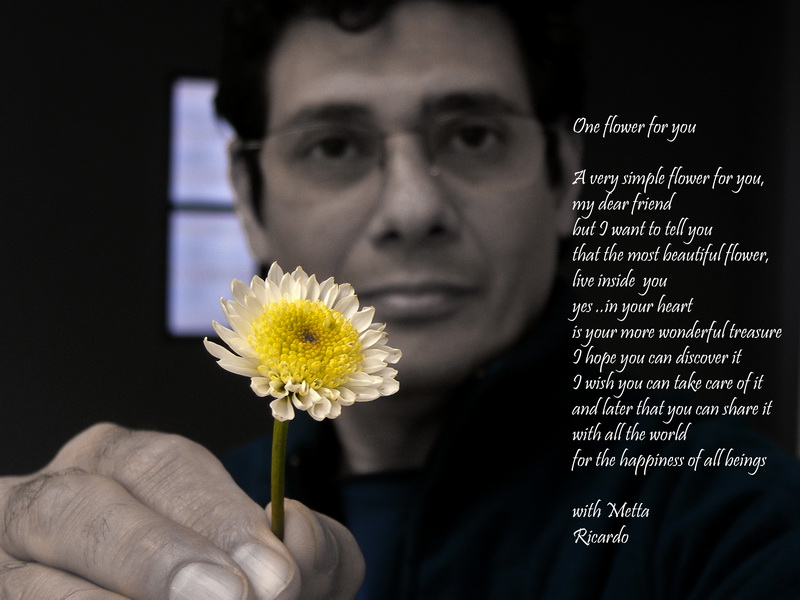 Copyright ©2006, Ricardo Rico
Viewed times
I want to express my deeply gratitude to all the people of my olympus. One year ago I decided to participate in this wonderful community. Thanks to all of you, I have learned a lot and improved my photographic skills. I say you are a wonderful community because your comments are made with kindness and goodwill, and this is something not so usual in the photographical world, maybe because all of us feel like amateurs in spite of the diferent levels of experience of every one. I made this picture for my partner and my family, but I felt I could share it with all of you. Happy holidays!!. Many thanks.
PS. Metta is a word in Pali language (ancient language from India), the meaning is true LOVE without any kind of selfish contamination. This is an usual word in the Buddhist world.
Photographer:
Ricardo Rico
Folder:
Ricardo R. Rico
Uploaded:
24-Dec-2006 19:20 CET
Current Rating:
10.00/1
View all ratings
Delete my rating
Model release available:
Camera:
Olympus C7070
Exposure time:
Aperture:
Focal length:
Lens:
Focusing method:
ISO:
White balance:
Flash:
no
Image format:
Processing applied:
Various:
Image resized to:
600x800