Homing Hornet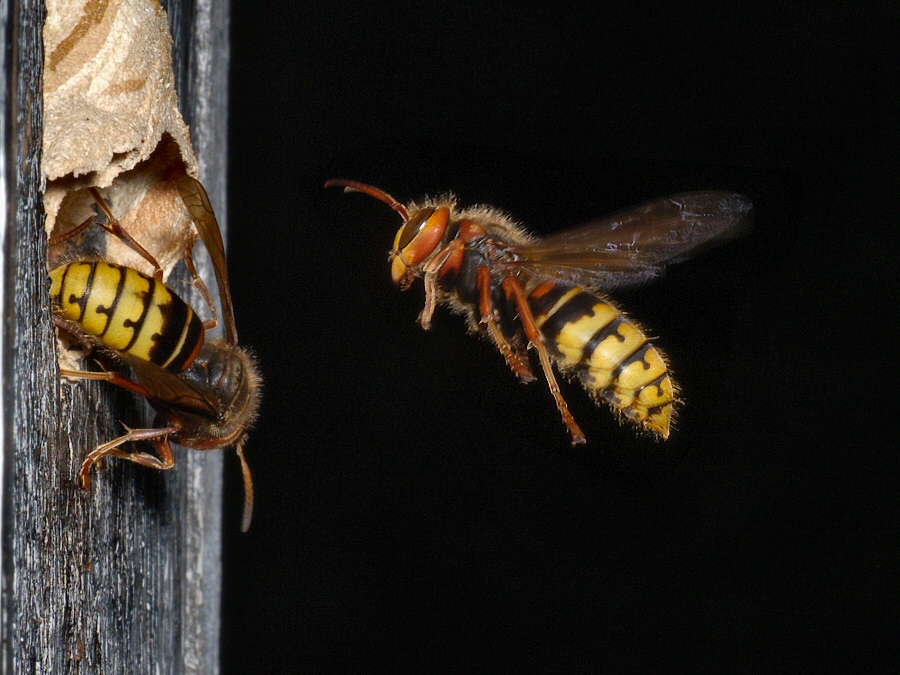 Copyright ©2006, Jens Birch
Viewed times
A hornet (Vespa crabro) approaching its nest. The doorkeeper is waiting for it and makes room for the landing.

Theese insects are endangered in Sweden due to the decreasing number of hollow oak trees in modern forrests. So, I was quite glad when we discovered that they had made a nest in an old bird nesting box high up under the roof hangout.

I made a holder for the tripod column that could hang on a ladder and then, dressed in green overall, climber's harness, net-hat, and leather gloves, I finally could take this picture after slowly having approached their nest. They were not at all aggressive but very curious. I must admit that having 10 of these beasts swarming around me sitting 10 meters up, tied with a harness half a meter from their nest made my adrenaline pumping.

Thanks for any comments that you may have.

Cheers, Jens.

Technical:
I used a very powerful macro setup that I have started to like very much: Olympus E-1 with a Zuiko Digital 50-200 zoom and a Zuiko digital 1.4x teleconverter plus a Canon 500D Achromatic close-up lens. Here the zoom was set to 102 mm and the nominal aperture was f/32. However, with the 500D close-up lens these values change to 83 mm focal length and f/26.
I left the platform on the ladder for another try when the sun is out so that I can get a better background illumination. I used an FL-40 with an oversized diffusor as the light source here.


Photographer:
Jens Birch
Folder:
Jens' Macro
Uploaded:
05-Sep-2006 13:59 CEST
Current Rating:
9.67/3
View all ratings
Delete my rating
Model release available:
Camera:
Olympus E1
Exposure time:
1/160 sec
Aperture:
f/26
Focal length:
83 (166) mm
Lens:
50-200 + EC-14 + 500D Closeup
Focusing method:
Manual
ISO:
200
White balance:
Auto
Flash:
external
Image format:
SHQ
Processing applied:
Various:
Image resized to:
675x900