ISO 50 vs ISO 200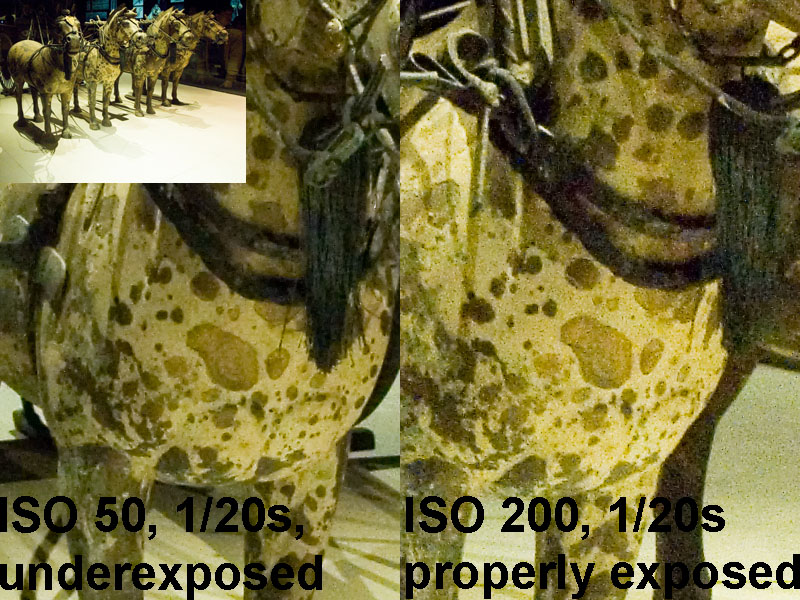 Copyright ©2006, Alfred Molon
Viewed times
Two images, both shot in RAW, both handheld at 1/20s and F2.4. One underexposed at ISO 50, the other properly exposed at ISO 200. The (originally dark), underexposed ISO 50 image has been heavily brightened up in post-processing to make it as bright as the ISO 200 one.
Both images were converted from RAW to JPEG with the same noise reduction settings.
In theory both images should have the same noise levels. However surprisingly the underexposed ISO 50 one is considerably less noisy than the ISO 200 one.
By the way, the above shots are both 100% crops.
| | |
| --- | --- |
| Photographer: | Alfred Molon |
| Folder: | Alfred Molon |
| Uploaded: | 08-Mar-2006 21:10 CET |
| Model release available: | |
| Camera: | Olympus C8080 |
| Exposure time: | 1/20s |
| Aperture: | F2.4 |
| Focal length: | 28mm |
| Lens: | |
| Focusing method: | iESP P-AF |
| ISO: | 50/200 |
| White balance: | |
| Flash: | no |
| Image format: | RAW |
| Processing applied: | |
| Various: | |
| Image resized to: | 600x800 |