Gator Hole (7)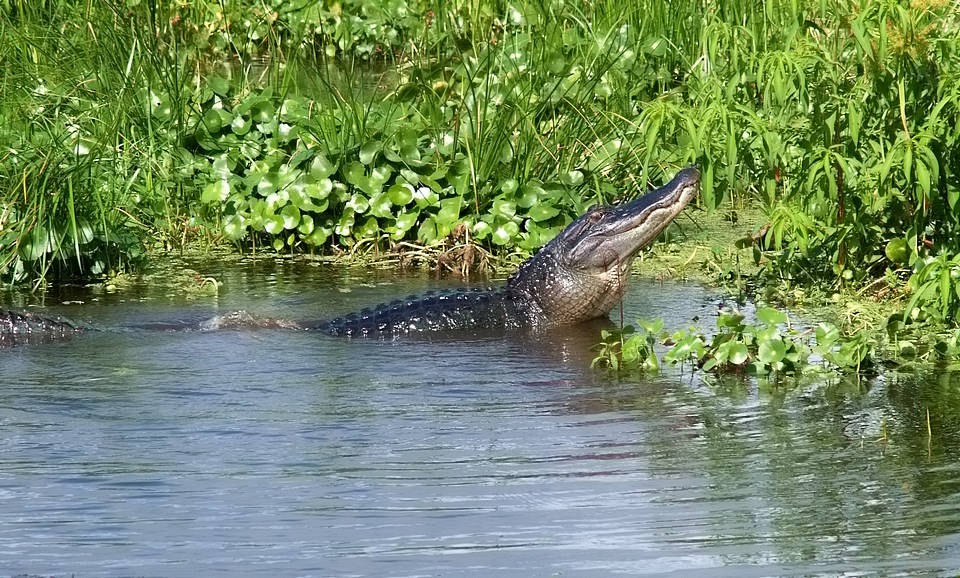 Copyright ©2007, Leon Plympton
Viewed times
I heard this 'bull gator' before I saw him. A bellowing bull gator is a sound not soon forgotten. They fill their lungs with air and then let out a low frequency rumble that makes the water dance on their backs as they exhale, bobbing up and down in the water all the while. Their rumble also makes the hair on your neck stand on end (!).
During 'normal' breeding season (April - May) it is not uncommon to hear several bull gators at a time competing with one another to attract females. This (8+ foot) specimen had no competition from the smaller males while I was on the prairie this weekend, and no females seemed attracted by his call.
This year we've had a serious drought during the normal breeding season - and little to no gator breeding in this part of the state of Florida. The past couple of weeks, however, we've received enough rain to flood some parts of Paynes Prairie, and no doubt this bull gator figures there's no time like the present to make baby gators.
| | |
| --- | --- |
| Photographer: | Leon Plympton |
| Folder: | Common area |
| Uploaded: | 06-Aug-2007 03:15 CEST |
| Model release available: | |
| Camera: | Olympus E1 |
| Exposure time: | 1/320 |
| Aperture: | f-8 |
| Focal length: | 150 (300) mm |
| Lens: | ZD 40-150mm |
| Focusing method: | Spot |
| ISO: | 200 |
| White balance: | Auto |
| Flash: | no |
| Image format: | SHQ |
| Processing applied: | |
| Various: | |
| Image resized to: | 578x960 |